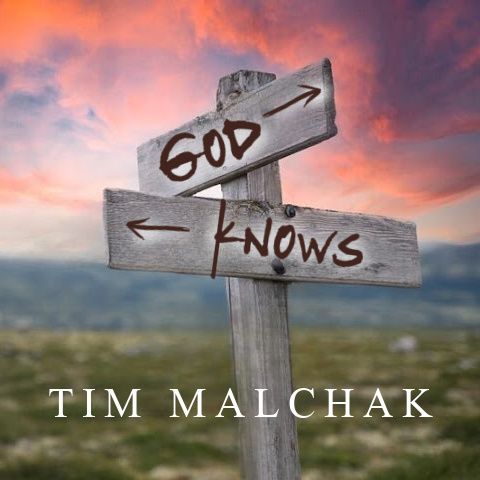 gOD KNOWS
aLBUm liner notes
1.Glory Story - Psalm 108:5
2.Moment of Grace – Ephesians 2:8-9
3.God Knows – Psalm 139:4
4.For Such a Time as This – Esther 4:14
5.The Cure – James 5:15
6.The Peace That You Bring –1Timothy 2:5
7.This is Not My Home – Hebrews 13:14
8.Peace Be Still – Mark 4:39
9.The Glory and Praise of God –  Philippians 1:11
10.Pain - Psalm 73:26
All songs written by Tim Malchak except Tracks 3 & 8 by Tim & Leslie Malchak, Track 7 by Tim Malchak & James Burns
All songs © 2022 Morning Sky Music BMI
Musicians:
Tim Malchak – Lead and background vocals
Eric Horner – Acoustic Guitar, Background vocals, Manditar, Ganjo, Upright Bass on "Pain"
Gordon Mote – All Keyboards
Jason Roller – Electric Guitar
Jacob Lowery – Bass
Scott Williamson – Drums
Mike Johnson – Pedal Steel and Dobro
Larry Franklin - Violin
Produced by Eric Horner
Tracks Recorded September 12, by Randy Poole at The Poole Room Franklin, TN
Vocals and overdubs recorded September 13 & 14 by Eric Horner at His Tunes Recording Studio in Lebanon, TN
Mixed by Jim Pace
Cover Design by Leslie Malchak
Special Thanks to:
Jesus Christ, my Lord, King, and Savior and the Author of my Salvation
My wife and ministry partner, Leslie, my best friend through good times and bad.
Eric Horner Ministries, Eric & Debby Horner, Ready to Go Ministries, Ross Antonakos, Everyday Mission Trip Ministries, Jim Breland, James & Julia Burns, Jim Woods Ministries, Jim & Lindy Woods, Andi Lynn Woods, Chris & LaDonna Taylor, Chuck & Candy Barefield, Bryan Parrish, Jim & Teri Davidson, Bill & Jennifer Mason, Donna & Chris Becker, Savannah Band of Brothers, Kenny & Shirley Grant, Richard Barrow, Doug Weathers, Jason Wallace, John Thomson, Jimmy Weathers, Celebrate Recovery of the Islands, Lorrie and Bob Keating, Randy Wood Guitars, Stu Weaver, Tom Cooler, the Toomer family, Mary Kay & Frank Roland, Jack & Nancy Malchak, Tom & Patty Malchak.
Our children - Katy, Alyssa, Bryan, Katie, Travis, Hayley, Lauren, and Randy.
Our Grandchildren - Payton, Neyland, Aubrey, Paisley, and Lilia.